This post was originally posted by Robert Cserti on SessionLab.
Have you heard of Design Thinking?
Chances are you have.
It is one of the hottest buzzwords of today, easily found in articles and in the news. The education and business fields are going crazy over it, books are written about it, and service designers, creative agencies, career coaches, trainers and facilitators are using it. Perhaps you're already applying it in your work or everyday life, too?
Since its debut in 1969 when Simon Herbert introduced the model in the Science of the Artificial, Design Thinking has revolutionized business models, education systems, processes of innovation, product and service design and human mindsets.
One of the reasons for its popularity is that it is human-centered, putting users and customers at the center of creation in order to understand their problems, thus making products and services more user-friendly.
Design Thinking may seem like just a tool, but this is not the case. Design Thinking is more of a mindset or a process with several different stages, and each stage can be supported with different tools to help in the understanding-designing process.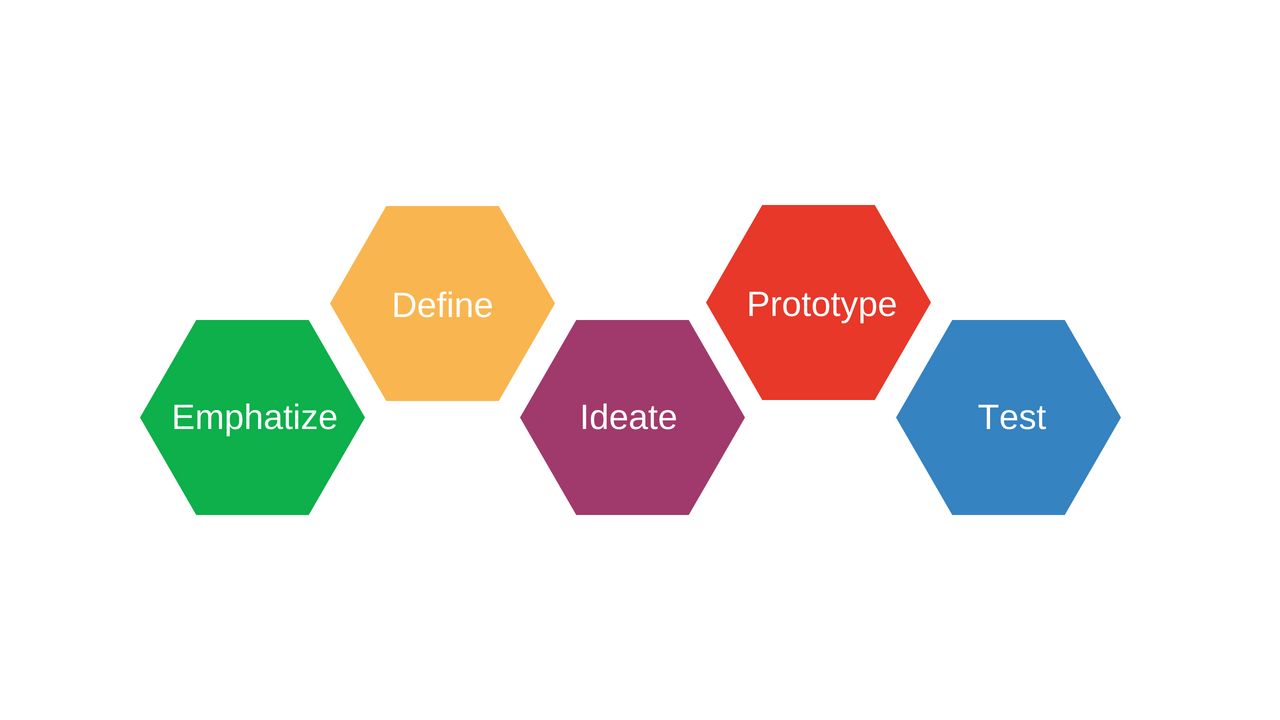 Best tools for each Design Thinking stage
Keeping in mind the stages of the model, we have collected some of the best Design Thinking tools to help you create real value for your customers and users.
Let's dive deeper to review each tool more in detail.
Online tools to support Empathizing
The first stage of the Design Thinking process is to empathize with your users by collecting as much information about them as you can with different set of tools. This human-centered approach helps experts focus on the user instead of their own assumptions about a problem.
For collecting (raw) information:
For organizing the information:
Design Thinking Solutions to support Defining
Once you have gathered a lot of information about the users, their needs and problems in the empathizing stage, you can analyze and synthesize it in order to sift out the (real) problem to be solved. To understand problems better, it is useful to create personas and define roles so you can attach needs and problems to different set of users. Once you have this you can see what patterns emerge and summarize problems into one problem statement.
Building Customer Personas with Smaply

Tools for Ideation
This stage is about coming up with  solutions based on the problem statement. At this point in the process you're not concerned about finding the best solution but creating as many possible solutions as you can with the help of brainstorming and other ideation techniques.
Prototyping apps
By this stage you will have a few solutions or features that you will want to test. Prototypes do not have to be too detailed, high-quality or actually even working yet. The idea is to create a prototype that is sufficiently able to display a specific feature or working mode.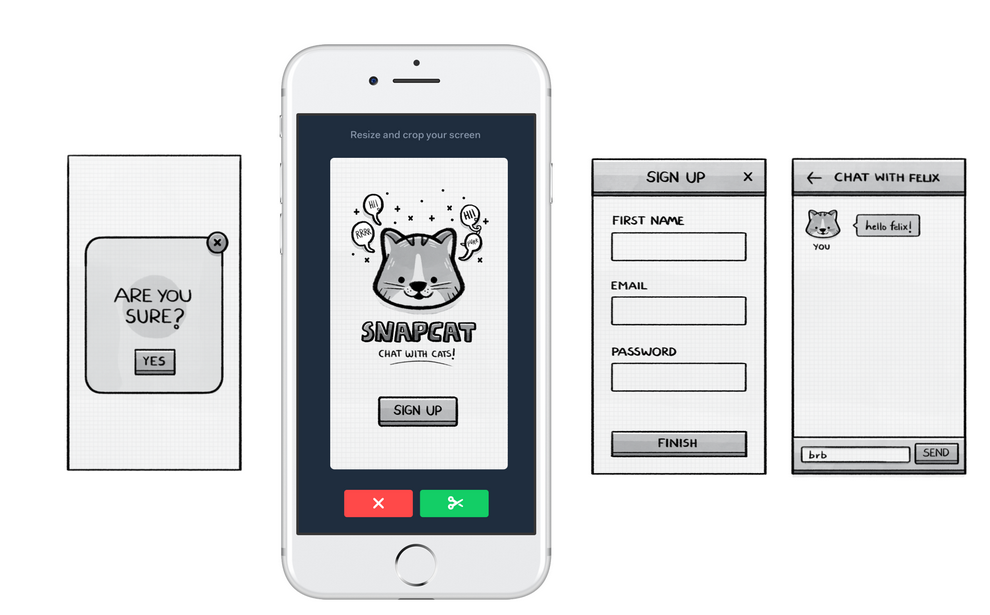 POP – an easy-to-use mobile application to turn sketches into animations

Testing platforms
When testing the complete product or service, it often happens that data gained through testing will redefine the problem statement or several features, making Design Thinking a real iterative process. While nothing beats the ultimate experience of seeing your users interacting live with a prototype, there are various different tools you can use when you have to conduct user testing remotely. And if your prototype is a website, you can also benefit from website analytics and screen capture tools.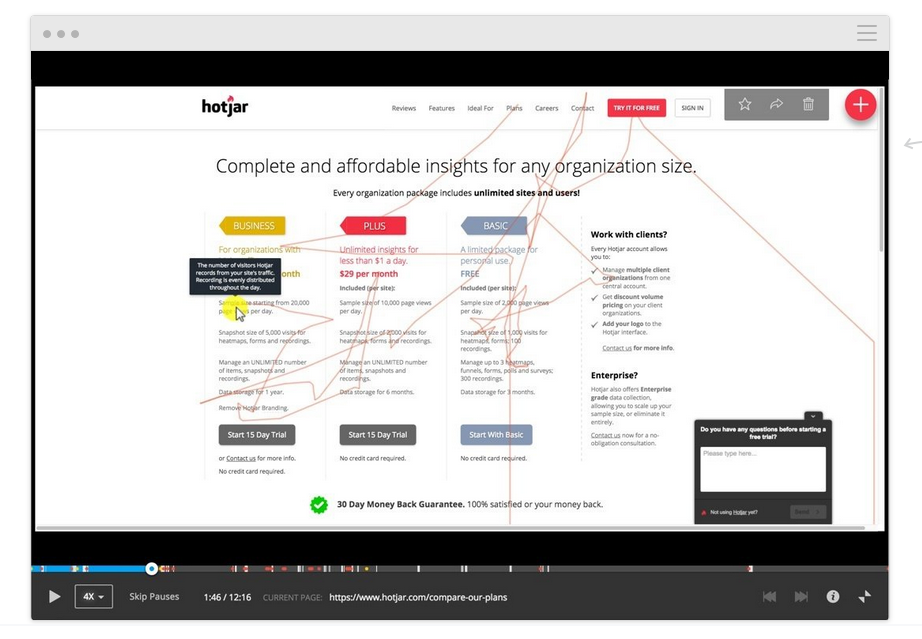 Hotjar records how users interact with your website

Design thinking tools for the complete process
There are versatile apps and online softwares that can support you throughout the whole design thinking process. These tend to fall into two categories by their approach: they are either tools specifically designed to guide you through each step of the design thinking process, or really flexible but generic solutions, such as collaborative online boards.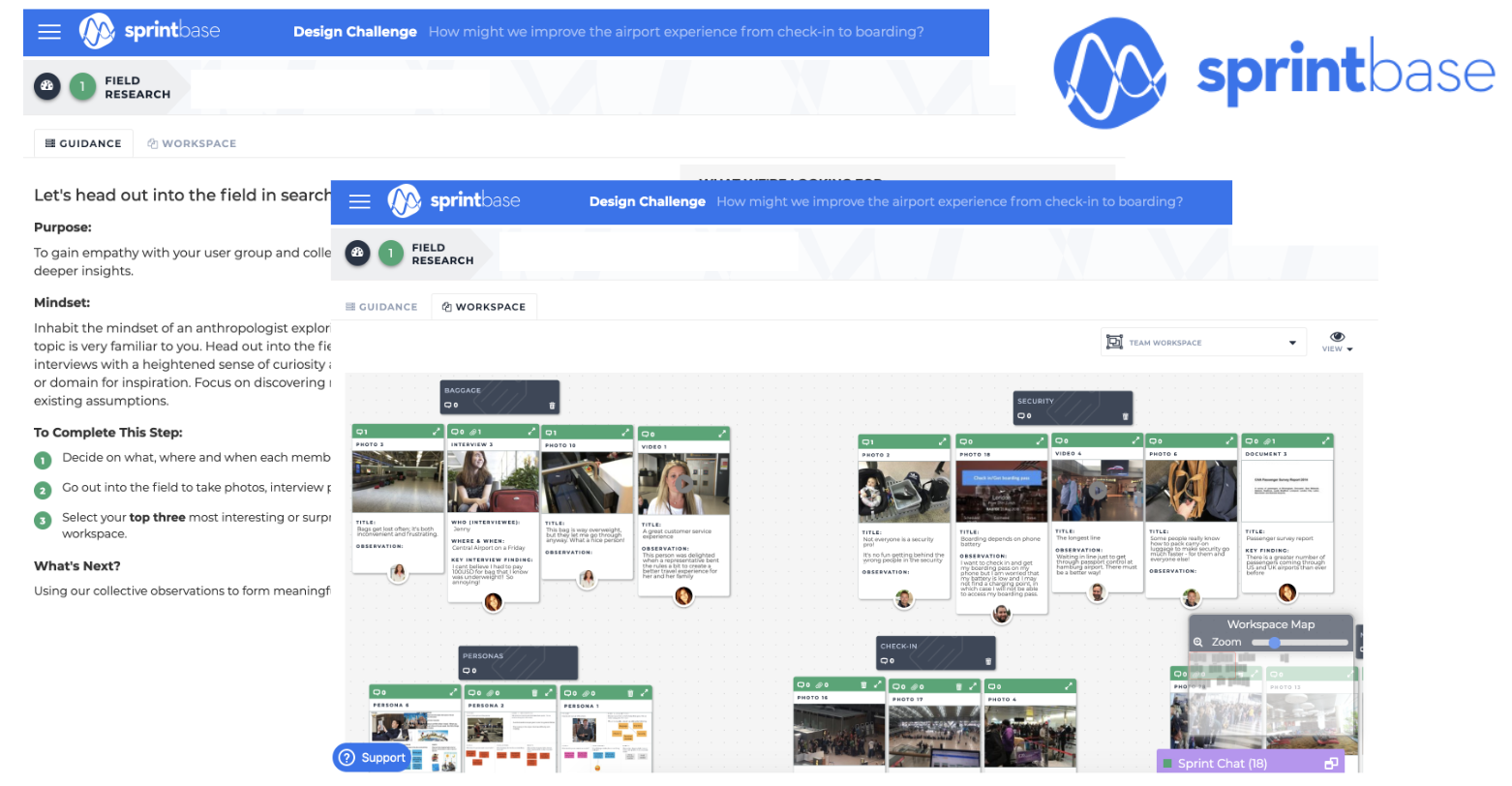 Collaborative online boards: Mural and Miro (formerly RealtimeBoard): Both of these online tools provide a visual collaboration platform for teams. You can can create real time whiteboards, work both with sticky notes and free hand drawing, brainstorm and structure information for a design process.
+1 Browse through more than 500+ design tools and resources on Public Design Vault ! You will find everything needed for design work from templates to sort cards, toolkits and podcasts. Make sure to check it out!
Before you go…
Are you interested in online teaching? Try Learnworlds now and start your online teaching business.